In 2018 collection you will find just what you are looking for:

Wherever you see this logo, you can count on the products which are honestly made and can be used for riding on your motorcycle. The new 2018 collection is enriched by helmets line. Who else would help us make better production than our buddies from Premier company. All helmets are handmade in Tunisia using 3 composite materials (Carbon, Aramid Fiber and Fiberglass) with focus on real KUSTOM style. Products carrying the "READY FOR KUSTOM RIDE" logo are well prepared for protectors. Jackets are prepared for elbows, shoulders, and spine protectors, and pants are prepared for knee and hip protectors. In some of the products you will also find a lining made of original Kevlar® by Dupont™. Even though, we create fashion for your leisure time, it does not hurt to give a pinch of protection for you in some of the clothing too. Rider´s safety is very important to us. By using the right technology and quality materials, we strive to give you good protection while riding your chopper, bobber, scrambler or cafe racer. But remember, Rusty Pistons is an alternative fashion, so do not look for waterproof nano membranes, air bag systems, or other high-tech stuff. We do not need them for our fun. We prefer comfort and convenience while riding, clean and smart product simplicity. Just a cool outfit that will make you happy even if you're not riding. But when you fall, it will not let you down!

GARAGE LIFESTYLE wear was born for us guys to appeal to our girls and fit perfectly into the style of our customized machines. With the same love that builds all of the power-charged hot rods, the old classics of 50´s, and the tuned V8s, those gorgeous classic motorbikes in different original styles… With the same love we design RUSTY PISTONS clothing for you! Our inspiration is the sound of a powerful engine, smell of gasoline, speed, as well as beautiful pinstriping curves and all those Kustom machines. This is what we enjoy, and if you do too, join us in your garage, while riding, or on the wild Rockabilly party.

Do you like the smell of gasoline, exhaust pipe noise, and proper burnout? It´s nothing special. We girls enjoy going to the garage too. And for sure, we want to look good for our guys. In Rusty Pistons crew, it´s us girls, and girls only who design the new Chick collection. We feel that we understand it the best, because we live it and wear it. Rusty Pistons brand will let you underline your hobby or lifestyle by original clothing. We don't forget the tenderness and beautiful curves of women, we underline them. You will find here also pieces that fit for an afternoon get away or evening party with fine music. We love Pin Up style from the beginning of 60´s, listen to rock'n'roll all the time, and sometimes we are blown off by Rockabilly and Psychobilly.
In any case, we are into these beautifully rebuilt classic motorbikes and powerful cars with a massive intake and loud rumble of the engines.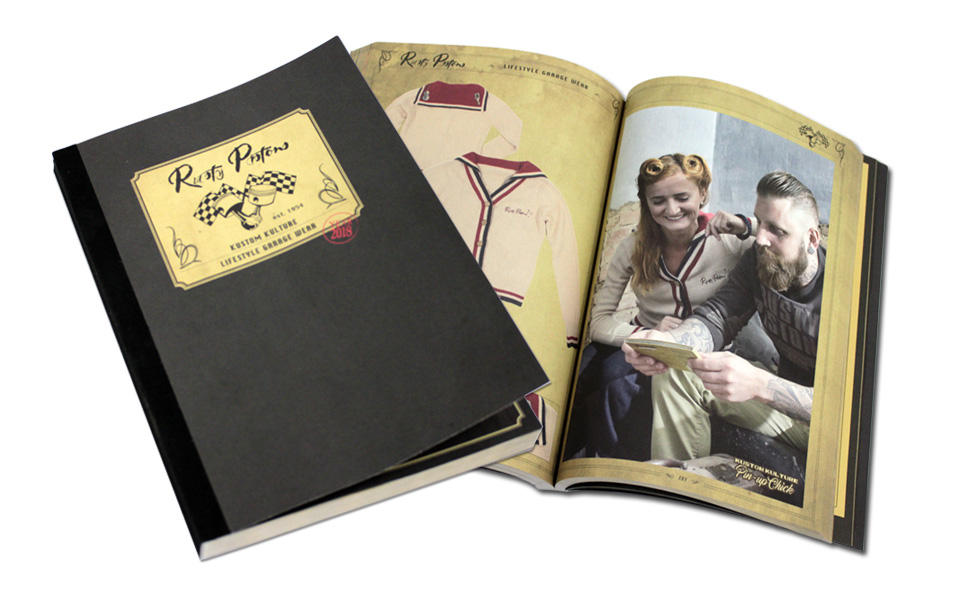 Emphasis on Quality
We carefully select the finest and most refined materials that extend the lifetime of the product and are comfortable to wear. We work only with the luxury real leather of natural A plus quality of buffalo, sheep, and cow hide which we carefully select with focus on parts without skin scratches and scars. We use high quality fabrics from all over the world for textile products. Our zipper supplier is the top leading manufacturer of zippers YKK – original and quality RUSTY PISTONS YKK zippers. We DO REALLY care about the quality. Our brand is not based on elaborate designs as such, but we put the accent on the use of advanced techniques which eventually make our designs extraordinary and even more eye-catching. "Good" is not good enough for us. We know that our customers deserve more than that, therefore we want to give them perfect fashion clothing spiced with outstanding design ideas aimed at a specific group of enthusiasts.
Stay in style, Stay customized, Stay rusty!!!